Our Story
Orange County Brewers, where everyone can drink like a local.
The idea of Orange County Brewers arose from a team of rogue entrepreneurs looking to solve a problem: Finding craft beer in Downtown Orlando with brews that quench their thirst for unique flavors in a welcoming Sunshine State atmosphere.
Drawing from over a decade of success in owning and operating hospitality hot spots, the group quickly came up with a concept that celebrates an adventurous spirit with brews fit for fueling an active Florida lifestyle, brainstorming a new big idea, and exploring everything in between.
Whether you're raising a beer to a bold experience or experimental business, we brew with your next venture in mind...just remember to #bringtheOCB.
Our Brewmaster
Meet Amanda; sometimes goes by "B" and always answers to "Brewmaster."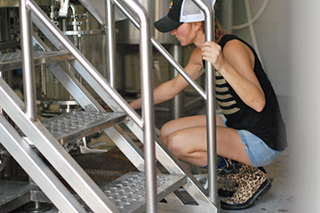 Known for her bright rainboot collection and brighter smile, you can spot Amanda giving impromptu brewing lessons to curious guests or running around Florida with her chihuahua, Febe. After completing an apprenticeship at Sea Dog Brewing Co., Amanda has made waves by jumping into her first brewmaster role with creative recipes (and a knack for naming her brews). As a beer enthusiast, Amanda is a member of Girls Pint Out Orlando, the Pink Boots Society, and Central Florida Brewers Association -- and as a beer perfectionist, don't be surprised if you catch her kegging a batch at midnight.